Charlie Chaplin's Los Angeles: a black and white odyssey
In search of flickering reminders of Chaplin's LA, Kira Cochrane follows in the footsteps of The Little Tramp, on the centenary of his arrival in Hollywood
Charlie Chaplin slept here: LA hotels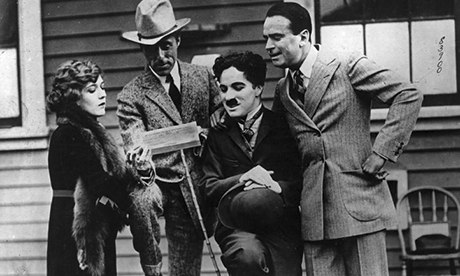 I wonder how much of Hollywood would exist if Chaplin had never arrived. If the manager of his touring vaudeville troupe had never received that abrupt, misspelled telegram from some filmmakers: "IS THERE A MAN NAMED CHAFFIN IN YOUR COMPANY" would this still be a drowsy little village?
By the time he walked out on set, a few moments later, he knew who this character was. The man he would play for the next 22 years was, "a tramp, a gentleman, a poet, a dreamer, a lonely fellow, always hopeful of romance and adventure". The character was the ultimate outsider, and within two years he was also a global phenomenon.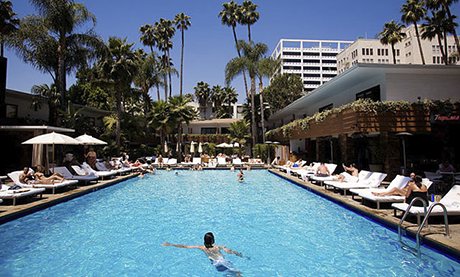 At that time, the future of Hollywood – a district with just 500 residents in 1900 – was far from guaranteed. The weather and light were similarly good in Florida and Arizona, and studios were thriving in New York. But in the time it took Chaplin to become the best-loved, highest-paid star the world had ever seen, Hollywood's destiny became undeniable. An industry town, devoted to telling stories, was born.
But peer closer and you can still find traces of old Hollywood. It's in the huge handprints and tiny footprints made by silent-screen stars Douglas Fairbanks and Mary Pickford respectively, in 1927 in the concrete outside Grauman's. And it's in the Hollywood Roosevelt Hotel, which opened over the road, financed by the couple, the same year. Chaplin, a friend of Fairbanks, became a regular guest and it was here, in 1929, when the first Oscars ceremony took place, that Chaplin was given a special award "for versatility and genius in acting, writing, directing and producing" his 1928 film The Circus.
The Blossom Room, where those first Academy Awards were handed out in a ceremony for 250 people, is now a private venue but in the lobby is the Library Bar, which anyone can visit. It's a wood-lined, candlelit sanctuary of leather booths, with barmen who rustle up bespoke cocktails according to guest tastes rather than classic cocktail names, and it feels miles away from the tourist hullabaloo.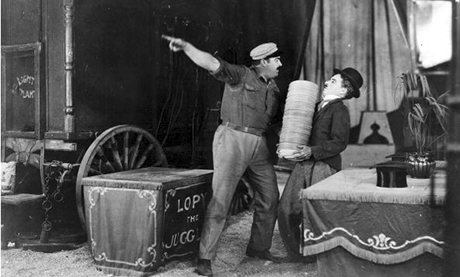 "Charlie Chaplin would go in, go behind the bar, and make his own ice-cream sundaes," he said.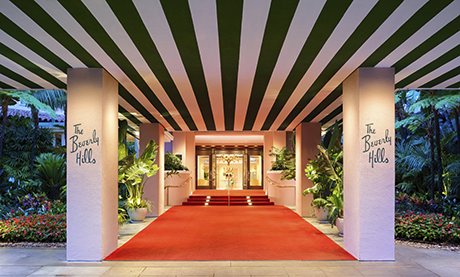 Images of it in that era show it sitting in rural splendour, fields stretching for miles around it. The hotel, a pink ice-cream cake of a building hidden in a leafy grove, is still thriving among the types of people with money to pay for its opulence and discretion. Bedrooms have swag curtains and tasteful four-posters, sunken baths and black and pink marble in the en suites. In the grounds are 23 bungalows: Marilyn Monroe stayed in one, and Howard Hughes lived here for decades, with the staff catering to his unusual whims, leaving roast beef sandwiches in the trees, and hiding pineapple upside-down cakes in the grounds for his 2am treasure hunts.
The more straightforward guests tended, then and now, to eat in the hotel's restaurants, including the Polo Lounge, where for decades Chaplin had a standing reservation for booth number one. If he didn't show, it stayed empty. Anyone can make a reservation today and while the menu includes Siberian caviar for $180, the house burger, and West Hollywood salad (featuring quinoa, faro and kale), both $28, are more affordable options.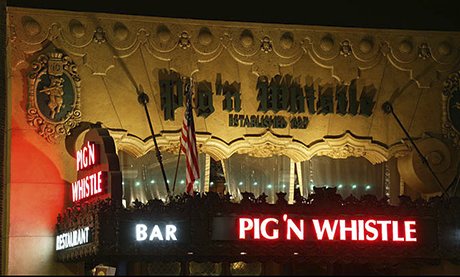 "Try one," said Anderson. I did. It was ridiculously comfortable. You can book a tour today, see the bougainvillea weep over the tennis courts, and walk, once again, in Chaplin's footsteps.